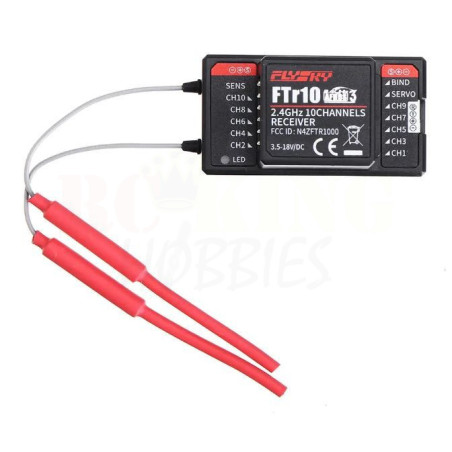  
FlySky Paladin Receiver (Check Availibility)
FlySky FTr10 2.4G 10CH AFHDS 3 RC Receiver Support i-BUS/S-BUS/PPM Output Compatible PL18 for RC Drone


OVERVIEW:


FTr10 adopts AFHDS 3, Flysky's third-generation automatic frequency hopping digital system. It uses a double-antenna bidirectional transmission system and is uniquely to save space and output standard PPm i-BUS and s-bus signals.
Item Name: FTr10 Receiver
Data port: i-BUS/S-BUS/PPM/PWM/URAT
Antenna type: Dual antenna (103mm * 2)
Remote control distance: 10KM (open and no interference limit distance)
Humidity: 20%-95%
Certification: CE, RCM, FCC ID: N4ZFTR1000



Binding:
1. Insert the bind cable into the receivers bind port
2. Plug the power cable into any other port, and the receivers LED will start to flash quickly indicating that it has entered bind mode
3. Put the transmitter into bind mode; (See the transmitters instruction manual for more information)
4. Binding is successful when the receivers LED will stop flashing
Remove the power and bind cables from the receiver.
5. Reconnect the power cable to the receiver
6. Check to make sure that the transmitter and receiver are working as expected, if there are any issues or unexpected operation follow the steps above to bind again.
Make sure the product is installed and calibrated correctly, failure to do so may result in serious injury.
Make sure the receiver's battery is disconnected before turning off the transmitter, failure to do so may lead to unintended operation or loss of control.
Make sure the receiver is mounted away from motors, electronic speed controllers or any device that emits excessive electrical noise.
Keep the receiver's antenna at least 1 cm away from conductive materials such as carbon or metal.
Do not power on the receiver during the setup process to prevent loss of control.
Ports used to connect the receiver to the various components.
SENS: Connects to sensors
SERVO: Connectsto the i-BUS module for channel expansion and output S-BUS signals.
CH1-CH10: Connects the servos, poweer supply or other components.
Power: Flight controller power output.
Package Included:


1 x FTr10 Receiver
Unfortunately, there are no reviews for this product.
Be the first to add a review!