Professional High Quality Laser Cut Parts in Days!

All cutting is done in house on our high end CO2 machine, which means we are able to offer Laser Cutting Services to hobbyists and businesses with quick turn around times.  Our machine is kept calibrated and offers very precise cuts.

We can cut and engrave a large variety of materials like wood, cork, cloth, leather, acrylic etc.  We cannot cut metals or composites like carbon fiber or fiber glass.

How much does Laser Cutting Cost? Drawing, setup and cutting time is aggregated and costs R15 per minute.

For a quick quote, please complete the form below and upload your drawings.

For more information, please WhatsApp or email us.  Please view the Laser Cutting FAQ at the bottom of this page.
Need Laser Templates?
You can access hundreds of ready to laser cut templates from our secure templates online store.  https://www.laserlayouts.com
Laser Cutting FAQ:
What exactly is Laser Cutting?
Laser cutting makes use of a focused thin beam of light to vaporize material.

What is Kerf?
Kerf is the term used for the material that has been vaporized.  Should the laser beam width be 0.2mm thick, 0.1mm of material will be missing from both edges of the work material.

What is Kerf Angle?
The Kerf angle is depicted by the type of lens that is used in a laser machine.  Because the beam of light is focused, the beam creates an hour glass shape.  The thicker the material, the more obvious the Kerf angle is.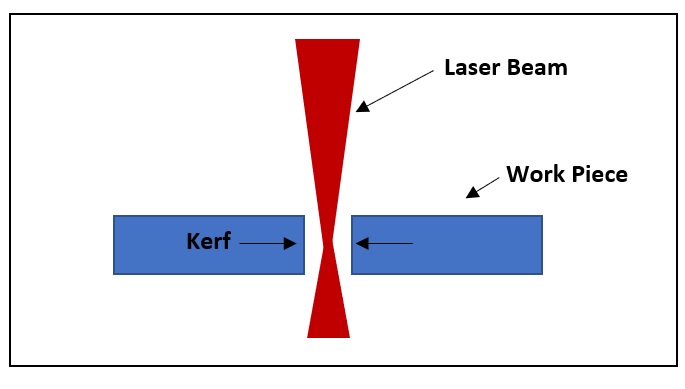 How accurate is Laser Cutting?
Parts are typically within 0.2mm accuracy.

How big can you cut?
Our CO2 laser cutter is large and has a 1300mm x 900mm cutting bed.  Cuts are however typically limited to the size of the material selected.

How long does it take to get my work cut?
Production for standard projects are typically completed within 1-3 business days. If you have an urgent laser cutting job, please let us know in the comments.  We do however charge a levy to bring your cuts to the front of the queue.  Should you have a high quantity order, a production time will be provided.

Can you do laser engraving?
Yes we can do laser engraving.  Text characters must be larger than 1mm in height and characters must be enclosed.