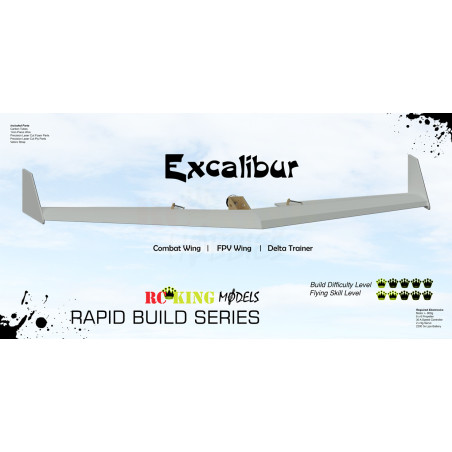  
Excalibur Delta Wing - Rapid Build Series Model Kit
RC King's Rapid Build Series - Excalibur Delta Wing
Choose your Addons!
 Electronic Accessories
 Building Accessories
The RC King Rapid Build Series of Models are easy to build and are a great way to get younger people into the hobby due to the build process being exciting and quick.
Excalibur is a unique Delta Wing with excellent flight characteristics which includes a high speed envelope and novice to advanced manoeuvrability.  Excalibur excels at being the type of wing you want it to be!  Excalibur's temperament is dependent on the power plant that is installed which means Excalibur can be a gentle afternoon cruiser or a hot combat wing or the perfect platform for FPV flying.

Excalibur excels at being a Delta Trainer due to it inherent stability, gentle stall characteristics and overall durability.  Take-offs and landings are simply non-events because of the predictable in flight behaviour of this wing.  Add more throw on the elevons during later flights to extend training into rolls, loops and any other delta aerobatics.

FPV wings typically carry alot of additional gear in the form of a camera, video transmitter and sometimes even a flight computer.  When building this wing specifically for FPV all of the additional electronics can be planned for and installed directly into the wing during the building process which means there is no need to cut pockets in the wing to install any electronics.  A small hole to allow the antenna's out is all that is needed.

Combat flying typically goes hand in hand with destruction.  Excalibur is brilliant for this application due to it durability and its never say die attitude.  During combat when the wing is finally sent to the heavens, the electronics can be moved into another cost effective airframe reducing in-air costs and providing an awesome combat wing and experience with minimal investment..  Further advantages are that the motor and propeller are situated at the rear of the wing due to its pusher configuration, this helps to protect your power plant from frontal collisions.
This foam board plane kit is precision laser cut and the construction uses proven build techniques similar to FliteTest.
This Kit Includes:

Carbon Tubes (Push Rods)
0.9mm Piano Wire with Z Bends (Push Rods)
Precision Laser Cut Foam Parts
Precision Laser Cut Ply Parts
Velcro Strap

Requires:

2 x 9g Servos, Brushless Motor(+- 800g) and Prop(8-9"), 30A ESC, Battery, Transmitter and Receiver.

For detailed information, please download the Build Manual.  See the attachment tab.