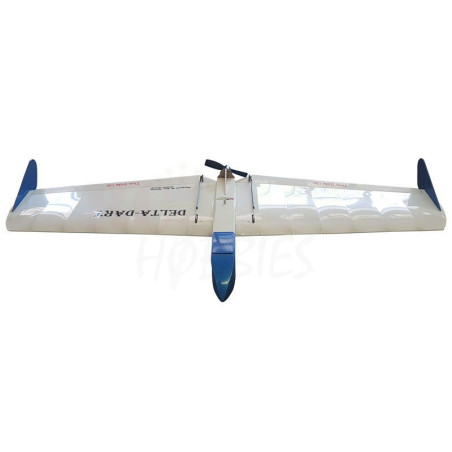  
Delta Dart DLG Slopie or Motorized Glider Kit
The Delta Dart is a unique model as it can be built as a DLG Slopie or as a motorized delta glider.  The insanely low wing loading makes either configuration excellent as this model picks up on thermals easily, requires only the smallest updraft to stay aloft and as a motorized glider is a pleasure to dart about the sky hunting for thermals.

This is the kind of glider that one leaves in the boot of a car so that whenever there is a small gap during a busy schedule, the model can be enjoyed in a moments notice.  In the highveld build the motorized glider version.  Use its motor to rocket up to altitude and then see how long it takes before you need to do it again.  Down at the coast build the sloapie version and enjoy the updrafts coming in over a ridge.

Either version of the Delta Dart flies exceptionally and you will enjoy every minute!
The balsa used in our models are top grade and each piece is selected carefully to ensure the right balsa is used to enhance the models performance.  The airframe design makes use of carbon tubes and carbon flat bar is strategic locations to reduce overall weight and increase wing strength and rigidity.

Parts are precision CNC laser cut and the wood-pack features a full 1:1 scale plan.

Please go ahead and download the detailed build manual under "attachments" to find out more info!

Included:

1 x 1:1 Detailed Scale Plan 
1 x Sticker Sheet
3 x Laser cut balsa sheets
2 x Laser cut ply sheets
2 x 3mm Carbon Tube
1 x 1m 6mm Carbon Tube
1 x 1m 0.5x3mm Flat Bar

Note:  This is a wood pack kit but includes all carbon tubes and flat bar.