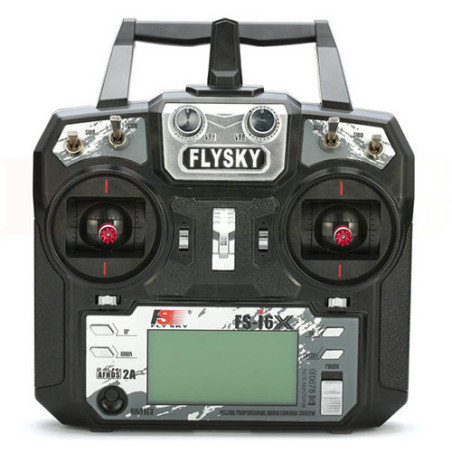  
FlySky FS-i6X Transmitter and Receiver Set
The FlySky 2.4Ghz Radio provides plenty of features to control boats, planes, helicopters and drones.
FlySky Introduces its newest 6 channel 2.4GHz system, the FS-i6X which is an upgrade to the FS-i6.

Adopt AFHDS 2A (Automatic Frequency Hopping Digital System Second Generation) technology. Offering superior protection against interference while maintaining lower power consumption and high reliable receiver sensitivity.
Receiving data from temperature, altitude and many other types of sensors, servo calibration and i-BUS Support.
Multi-channel hopping frequency, hop between 16 channels (32 for Japanese and Korean version) to reduce interference from other transmitters.

Unique ID recognition system, each transmitter and receiver has its own unique ID to prevent interference.

Low power consumption, consuming as little as one tenth the power of a standard FM system, dramatically extending battery life.

The FS-X6B supports 6 channel PWM output, standard PPM output and i-BUS support for up to 18 channels alongside a reliable voltage sensor interface.

FS-X6B receiver fits for FS-i10, FS-i8, FS-i6, FS-i6s, FS-i6x, FS-i4, FS-i4x etc. FS series rc transmitter.This radio system uses a high gain and high quality multi directional antenna, it covers the whole frequency band. Associated with a high sensitivity receiver, this radio system guarantees a jamming free long range radio transmission.

Each transmitter has a unique ID, when binding with a receiver, the receiver saves that unique ID and can accept only data from the unique transmitter. This avoids picking another transmitter signal and dramatically increases interference immunity and safety.

This radio system uses low power electronic components and sensitive receiver chip. The RF modulation uses intermittent signal thus reducing even more power consumption.

AFHDS2A system has an automatic identification function, which can switch automatically from current mode between single-way communication mode and two-way communication mode according to the customer needs.

AFHDS2A has a built-in multiple channel coding and error-correction, which improves the stability of communication, reducing the error ratio and extending the reliable transmission distance.

FS-i6X Transmitter Specifications:

Channels: 6-10 (default 6)
Model type: Fixed-Wing/Glider/Helicopter/Quadcopter
RF Range: 2.408-2.475GHz
RF power: <20dBm
RF Channel: 135
Bandwidth: 500KHz
2.4GHz system: AFHDS 2A / AFHDS
Modulation type: GFSK
Stick resolution: 4096
Low voltage warning: <4.2V
DSC Port: PS/2 Port
Chargeable: No
Antenna Length: 26mm (Dual Antenna)
Weight: About 400g
Power: 4 * AA battery (not included)
Display: STN transflective display, LCD 128*64 lattice, VA 73*39mm, LCD with white backlight
Size: 190 * 174 * 89mm
On-Line Update: Yes
Color: Black
Certificate: CE0678, FCC ID: N4ZFLYSKYI6X

FS-iA6B Receiver Specifications:

Brand Name: Flysky
Item Name: FS-iA6B 
Channel: 6
Frequency Range: 2.4055--2.475GHZ
Band Width Number: 140
Transmitting Power: ≤ 20dBm
RF Receiver Sensitivity: -105dbm
2.4G Mode: The second generation of an enhanced version of the automatic FM digital system
Encoding: GFSK
Antenna Length: 26mm * 2 (dual antenna)
Input Power: 4.0-6.5V DC
Dimension: 47 x 26.2 x 15mm
Weight: 14.9g
Color: Black
i-Bus Interface: Yes
Data Acquisition Interface: Yes
Model Type: Airplane / Glider / Helicopter
Compatible Transmitter: Compatible with FS-i4,FS-i6(X),FS-i10,FS-GT2E,FS-GT2G

- 1 x FS-i6 2.4G 6Ch Transmitter
- 1 x FS-i6 6Ch Receiver
- 1 x Data USB Cable (for updating software)
- 1 x Sticker Set
- 1 x User Manual
Requires 4 x AA Batteries
A bit of a personal blurb on how I feel about my FlySky radio equipment.

About 4 years ago I started having signal issues with my JR 9x2. I had a near miss with an FPV flying wing, lost 2 planes, 1 drone and finally a helicopter to signal loss before I was willing to admit there was something up with my trusty 9x2. Not the radio's fault, but rather the Spektrum module as switching back to the 35mhz module proved bullet proof. As many hobbyists would agree, this was one of JRs most successful, bullet proof radios of all time making it extremely popular with the RC community.  

I could have simply replaced the radio module, but decided I wanted an upgrade with telemetry and a nice colour touch screen, but the JR/Spektrum, Hitec and Futaba Radio's were simply out of my price league and I was not a fan of the direction JR had taken with their new design, look and feel, so I took the chance and replaced my trusty JR 9x2 with the FlySky i-10 radio at a 1/3 of the cost of the other big brand radios with similar specs. The other advantage was being able to swap receivers in my models affordably as the 6ch and 10ch receivers cost a 1/4 of the big brand receivers and of course I had approx. 30 models that needed kitting out over time... of which I have probably at this point swapped over 90% of all my models.  

So now I personally make use of FlySky radio equipment in my own 90 size Heli's, 20cc planes, drones and everything else in between and have yet to experience a brownout, physical failure or loss of signal in the last 3-4 years I have used it and enjoy the signal feedback, battery voltage (Receiver or Flight pack), temp and RPM sensors. I stand by FlySky because of their reliability first, and bang for buck second.
Showing 0-5 of 9 reviews
Date: Newest First
Rating
From those who bought this product
I purchased this transmitter to use with the ST Model Discovery RTF 2.4GHz (not that there's anything wrong with the transmitter that came with the Discovery) and also to use with Phoenix RC. I am so impressed with this FS-i6X. It offers features usually found in the much more expensive transmitters at a fraction of the cost... telemetry, multiple models and types, different stick modes, channel assignment etc. And of course, the advise and service offered by Melissa and Annastastia was, as always, unparalleled. I highly recommend this one.

Melissa

[Manager]

26 Jun 2023

Thank you for the rating and the review William, we really appreciate it. :-)

the delivery was way faster than i expected !!!

Melissa

[Manager]

26 Jul 2022

Thank you for the rating and the review Tapiwa, we really appreciate it. :-)

This was Ridiculously Insanely Unbelievable !!! I ordered this transmitter online, yesterday morning ... Yesterday afternoon The Currier Guy delivered my purchase !!! I was "Speechless" to say the least. RC King was also the cheapest in the country. Last night i took my new transmitter for a test drive on DRL's training simulator. I was very impressed and also very happy. However i still have a long road ahead of me training wise. Did i mention that not only is this the cheapest transmitter to start with, but it also comes with a receiver. So you don't have to worry about the then. Thank you RC King for your EXCELENT service. It was Seriously Impressive, and i really appreciate it immensely !!! And also Big Time Thanks to The Currier Guy for their service ! I have also used them before and have never been let down.

Melissa

[Manager]

11 Feb 2022

Thank you for the rating and the review Jaco, We really appreciate it. :-) For JHB and PTA customers, if an order is placed before a specific time, and doesn't need careful packaging, it will get packaged and shipped out in the morning and delivered in the afternoon if all goes well with the courier.

Fantastic service from beginning to end. Was kept updated oo the progress of the order frequently.

Melissa

[Manager]

26 Nov 2021

Thank you for the rating and the review Johan, we really appreciate it. :-)

Good

Melissa

[Manager]

26 Nov 2021

Thank you for the rating and review Tatenda, we really appreciate it. :-)