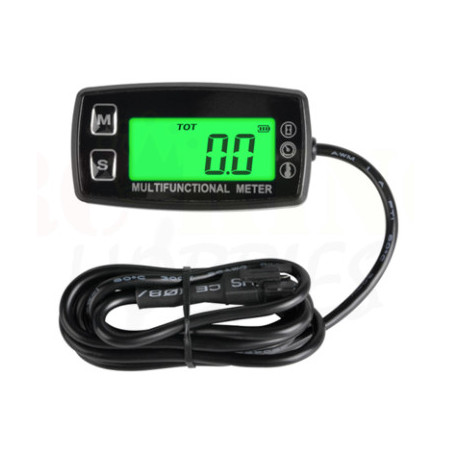  
Run-Leader RL-HM035T Paramotor Engine Multi-Function Meter
The Run-Leader RL-HM035T is not just for Paramotors, but excellent to monitor run-time, temperature and RPM on all Engines.  (Paramotors, Generators, Lawn Mowers etc.)  The multi-function meter has a PPG mount available.
I was running too far to get my paramotor off the ground, I lacked the RPM's I needed.  Poor engine tuning was simply to blame.

I was having trouble tuning my engine because I have seen so many other pilots who just wanted a little more power tune their engines lean only to have them seize up during their next flight.  I wanted to avoid damaging my engine at all costs and so would tune my engine on the cautious and rich side being aware that I was going to lose valuable RPM's, coke up my engine prematurely and fowl the spark plug.
 
I decided to invest in a Run-Leader multifunction gadget.  No more guessing!  After installing the multifunction meter, I could immediately see if I was within engine operating specifications.  Being able to monitor the relationship between engine performance and engine temperature meant that I was able to tune my engine for best power while monitoring engine RPM and temperature thus avoiding an overheating problem. 

For regular day to day use, when I start up the engine, I can monitor the engine temperature and ensure the engine is warm before completing a full thrust test.  Warming up the engine correctly increases engine life and improves overall reliability.

A leading sign of engine trouble is over-heating so being able to monitor nominal temperatures during the flight improves safety and can reduce the risk of damage and/or injury.
The multifunction meter includes automatic timers. A job timer allows you to track the time the engine has run for a particular flight which makes entering time into a logbook easy.  A service interval timer to keep track of service intervals.  Adherence to service intervals is crucial for any engine especially when attached to an aircraft. A total time counter works exactly like a Hobbs Meter so you can keep track of your engine's total runtime.

Installation is easy.  Wrap the ignition sensor wire around the spark plug ignition wire. Add the temperature probe to the spark plug.  I then mounted my multifunction meter on my throttle cable using a 3D Printed mount so that I can easily view the meter whilst operating the paramotor.  The mount is available for purchase and sold separately.  The final step was to zip tie the wires to the existing wire harness just to keep it tidy.

This multi-function timer is a great addition to any paramotor setup.

Features:
Engine Tachometer (Real-time RPM/MAX RPM/RPM Alert)
Temperature (Real-Time/Max Temperature/Temperature Alert)
Timer (Total Time/Job Timer/Service Timer)
Suitable for 9 different engine firing patterns
LCD Display
Water Proof IP65

Includes:
Multi Meter RL-HM035T
Induction Wire
Temperature Probe
Accessories Kit (Velcro Mount, Cable Ties, Screw Set)
Battery

Specifications:
Size: 69x37x17.2mm
Screen Size: 41x17mm
Screen Type: LCD with Green Backlight
RPM Range: 0-25000RPM
RPM Alert Range: 1000-25000RPM
RPM Accuracy: 10RPM
Refresh Rate: 0.5 Seconds
Battery: Coin CR2032 210mah
Meter Wire Length:  1.1m
Temperature Prob Wire Length: 0.6m
Supported Enginers: 9 Firing Patterns (See manual under attachments)
Note:  This is the new version of the Run-Leader Mutifunction Meter which includes a turn off function and better battery life.
Showing 0-2 of 2 reviews
Date: Newest First
Rating
From those who bought this product
Hi I thought one had to order the optional attachment mounting plate, but I see the unit shipped with decent velcro for this purpose. This was not clear on your website. Also the unit seems very difficult to switch off. Pushing both buttons simultaneously often yields nothing. Otherwise, it seems to be working well!

Melissa

[Manager]

23 May 2022

Thank you for the rating and the review Kevin, we really appreciate it. :-) In the accessories description, it does say Velcro Mount, Cable Ties, Screw Set.