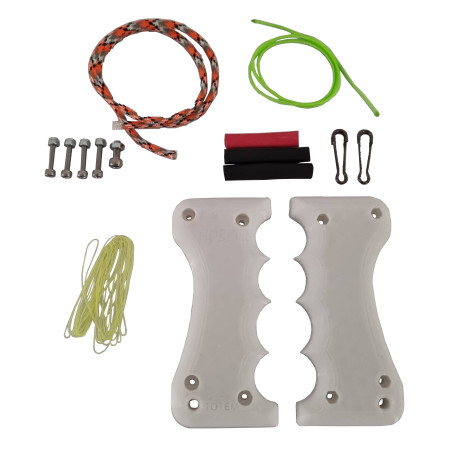  
Totem Control Line Handle Kit
F2B 3D Printed Control Line Handle Kit
We are excited to introduce the Totem Control Line handle, the ultimate accessory for a more enjoyable and precise flying experience. Created in collaboration with veteran Control Line Pilot Roy Harvey, this handle is built to last and help you achieve optimal control while in the air.

Crafted with high precision using PETG material, this handle is incredibly tough and can withstand even the most challenging conditions. The ergonomic design ensures a comfortable grip, reducing hand fatigue, and improving your flight accuracy.

As a Control Line enthusiast, the Totem Control Line handle is the perfect addition to your equipment, providing unbeatable grip and reliable performance every time you fly. So why wait? Elevate your control line flying experience today with the Totem Control Line handle and take your flights to the next level!
Measurements:
Width:                  50mm
Legnth:                 110mm
Height:                  24mm
Control Line Width: 100mm
Included in the kit:
2 x Control Handle Halves
2 x 29mm Snap Hooks
1 x Braided Wrap Line
1 x 4mm 7 Strand Paracord (250kg)
1 x 1.18mm Safety String Paracord (45kg)
2 x 8mm Heat Shrink
1 x 5mm Heat Shrink
4 x Stainless Steel 3mm Cap Screws and Nyloc Nuts
1 x 4mm Stainless Cap Screw with 4mm Nut
Unfortunately, there are no reviews for this product.
Be the first to add a review!