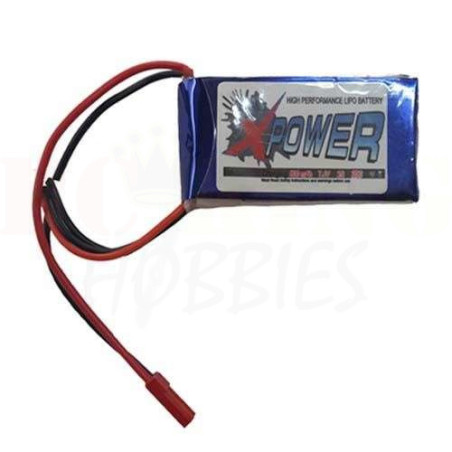  
XPower 800mah 2S 7.4v 20C LiPO Battery Pack
XPower 800mah 2S 7.4v 20C Battery Pack
XPower batteries are well known for their reliability and quality.  It's not surprising that at any track and airfield
you will find these batteries in cars, planes and helicopters.  XPower boasts low internal resistance and match cells during manufacture to ensure the highest performance.


Basic Information

Requires LiPO compatible

charger



JST Connector

      

Dimensions

Length: 58mm

Width: 29mm

Height: 13mm

Battery

Type: LiPO

Cell: 2S

Voltage: 7.4V

C Rating: 20C

Capacity: 800Mah

Weight

Weight: 48 grams
For your safety and those of others please ensure you follow LIPO battery safety.
Do no charge batteries unattended.
Transport and charge batteries in a LIPO safe bag.
Do not over charge  batteries.
Use a LIPO compatible charger.
Do not over discharge batteries. (recommend 3.3v per cell max)
Do not charge warm batteries, let them cool to room temperature.
Balance your Batteries if more than 1S.
Showing 0-1 of 1 reviews
Date: Newest First
Rating
From those who bought this product
Great prices Melissa gave excellent service.