This transmitter is off the charts. The functionality on the transmitter is endless. A couple of the highlights are that the i10 supports two way communication allowing you to monitor voltage, speed, temperature with the correct modules attached. The display is not onlycolour, but is in fact a touch screen. Two power buttons must be used to turn on and turn off the transmitter thus making it almost impossible to accidently turn off the device. The tx has 8 switches and 5 knobs, 3 of which you can depress if they are not in use. Each of the gimbals have double ball bearings to ensure smooth operation. The system has a double antennae system to ensure signal in all directions. 20 model memory which can then also be stored on an external sd card which is useful for sharing or backing up model configs. Finally, software upgrades are available online.
Specifications:

Channels: 10
Model Support: Fixed Wing, Gliders and Helicopters (Fix Wing typically used for Quadcopters)
Frequency Spectrum: 2.4Ghz
Frequency Encoding: AFHDS Version 2
Transmit Power: 100mw (Within South African Regulation)
Data output is supported via Micro-USB
Display is a full colour WQGA 3.55 inch TFT Touch Screen
Mode: 2

Size: 190x95x255mm
Weight: 720g


Includes:
1 x i10 Radio with Stylus
1 x 1700mah Li-Ion Battery
1 x 10 Ch Receiver
1 x Voltage Acquisition Module
1 x Light Sensor Speed Acquisition Module
1 x Magnetic induction speed acquisition module
1 x Temperature Acquisition Module
1 x Serial Bus Receiver
1 x Sun Attachable Deflector
1 x Binding Plug
1 x USB Charge cable
1 x Manual
Please see latest firmware release download below for the i10 V1.1.0.2 ZA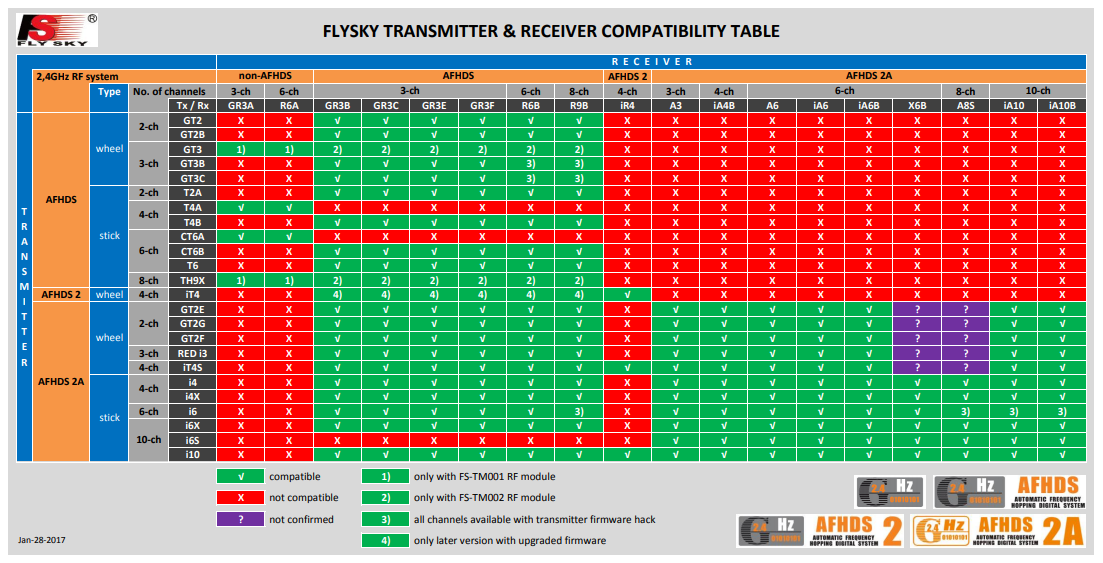 A bit of a personal blurb on how I feel about my FlySky radio equipment.

About 4 years ago I started having signal issues with my JR 9x2. I had a near miss with an FPV flying wing, lost 2 planes, 1 drone and finally a helicopter to signal loss before I was willing to admit there was something up with my trusty 9x2. Not the radio's fault, but rather the Spektrum module as switching back to the 35mhz module proved bullet proof. As many hobbyists would agree, this was one of JRs most successful, bullet proof radios of all time making it extremely popular with the RC community.

I could have simply replaced the radio module, but decided I wanted an upgrade with telemetry and a nice colour touch screen, but the JR/Spektrum, Hitec and Futaba Radio's were simply out of my price league and I was not a fan of the direction JR had taken with their new design, look and feel, so I took the chance and replaced my trusty JR 9x2 with the FlySky i-10 radio at a 1/3 of the cost of the other big brand radios with similar specs. The other advantage was being able to swap receivers in my models affordably as the 6ch and 10ch receivers cost a 1/4 of the big brand receivers and of course I had approx. 30 models that needed kitting out over time... of which I have probably at this point swapped over 90% of all my models.

So now I personally make use of FlySky radio equipment in my own 90 size Heli's, 20cc planes, drones and everything else in between and have yet to experience a brownout, physical failure or loss of signal in the last 3-4 years I have used it and enjoy the signal feedback, battery voltage (Receiver or Flight pack), temp and RPM sensors. I stand by FlySky because of their reliability first, and bang for buck second.