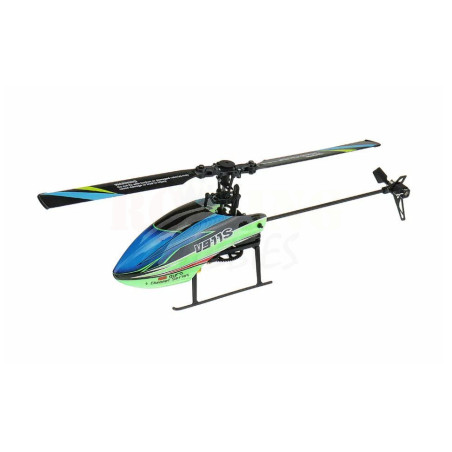  
WLtoys V911S 2.4G 4CH 6-Axis Gyro Flybarless RC Helicopter RTF - Mode 2
WLtoys V911S 2.4G 4CH 6-Aixs Gyro Flybarless RC Helicopter RTF - Mode 2
Features:
1. 4CH, 6-Aixs gyro, flybarless, it takes advantage of principle of aerodynamics to design the blades, provides the power and makes the the helicopter to fly stably.
2. It uses the 8520 coreless main motor and 3.7V 250mAH 25C lipo battery, the power system is more reliable and stable.
3. 6-Aixs Gyro design, stable fly, it is a kind of RC helicopter product which is suitable for beginners.
4. 4CH controller,  With the functions of LED display, low voltage alarm, etc. hovering point design, can adjust it according to users' needs.
5. With unique USB charging wire, can charge 2 batteries at the same time.
6. Flying weight is only 43.5g, it is very light. 
7. Flybarless design, the blades are have been dulled, more safer to use it.
8. The flying system have been upgraded, it flys more smoothly.


Basic Information

Brand: WLToys

Model: V911s

Type: Helicopter

    Transmitter      

Frequency: 2.4Ghz

Channels: 4CH

Type: Transmitter Mode 2

Battery: 6 x AA Batteries (Not Included)

Flight Distance:+- 80-100M



Power System

Main Motor: 8520 Coreless Motor

Tail Motor: 0716 Coreless Motor

Dimensions

Length:235mm

Height:77mm




Battery

Type: LiPO

Cell: 1S

Voltage: 3.7V

Capacity: 250Mah

Run Time: Approx. 6-7 mins

Charge Time: Approx. 35-40 minutes

Weight

Weight: +-0.044g Including Battery

Package Includes

* Helicopter

* Transmitter

* Charger w/USB Charging Cable

* 2 x main blades

* 1 x Battery

* User Manual
Showing 0-1 of 1 reviews
Date: Newest First
Rating
From those who bought this product
I've bought so many micro heli's before only to waste my budget. The V911 is just fantastic and very strong - I have not been able to break it even after many a crash. I like the aggressiveness that I can control it with. Such a great micro heli!