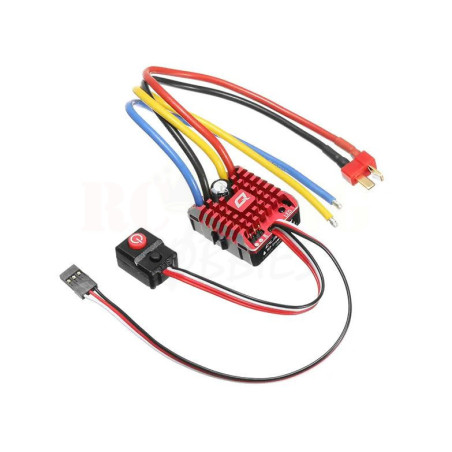  
Hobbywing QuickRun WP-1080 Brushed Crawler ESC
Hobbywing QuickRun WP-1080 Brushed Crawler ESC
This is the Hobbywing Quicrun Waterproof 1080 Brushed Crawling ESC. Is this the ultimate brushed crawler ESC? The Quicrun 1080 features include 9 level drag brake adjustability, 15 programmable areas, electronic switch, adjustable 6V/7.4V BEC, aluminum case, small size, 3S LiPo compatibility, plus dustproofing and waterproofing. 
Programming Items
 Features:
Water-proof and dust-proof, suitable for all weather races.
Small size, with built-in capacitor module.
100% Waterproof
15 programmable parameter items
PWM Frequency: 1K/2K/4K/8K/16K Adjustable
Freewheeling (DEO) capability
Drag brake rate in 9 levels (adjustable)
Electronic switch
Aluminum case for great heat dissipation
Great current endurance capability.
Great built-in BEC output capacity.
Automatic throttle range calibration, easy to use.

Multiple protections:
Over Voltage Protection
Low voltage cut-off protection for battery
Over-heating protection
Throttle signal loss protection, and much more
Risk-Free manufacturer's limited warranty available through Authorized Dealers in North America
Specifications:
Waterproof: Yes
Dual Mode: No
Fwd Cont. / Peak: 80A / 400A
Rev Cont. / Peak: 30A / 180A
Car Applicable: 1/8 – 1/10 Rock Crawler and Tank or Boat
Motor Limit: Brushed Motors 540/550/775 Series 2S LiPo or 6S NiMH: ≥10T orRPM<30000@7.4V; 3S LiPo or 9S NiMH: ≥16T or RPM<20000@7.4V

Battery: 2-3S LiPo or 5-9S NiMH
BEC Output: 6V/7.4V @ 3A (switch mode)
PWM Frequency: Adjustable 1K/2K/4K/8K/16K
Wires: 14AWG-200mm w/ XT60 Connector
Size/ Weight: 36.5(L)* 32(W)*18(H) (without fan)
External Program Port: External Program Port Available
Programming: LED Program card
Cooling Fan: Without cooling fan
Weight: 58.5g 
Includes:
ESC
LED program card
Bonus accessories (heat sink, etc)
User's manual
Decal
QR-WP-1080-Crawler-Brushed
Unfortunately, there are no reviews for this product.
Be the first to add a review!