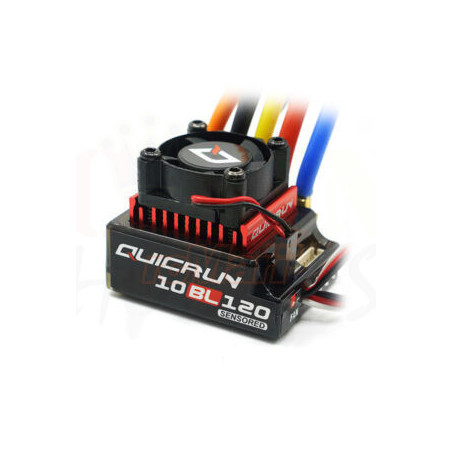  
QuicRun 120A Brushless Sensored ESC
Hobbywing QuicRun 120A Brushless ESC Sensored ESC
Hobbywing QuicRun 10BL60 Sensored Brushless ESC
Easy Operation
This ESC is specially designed for new beginners and intermediate modelers;
it not only carries forward the outstanding quality of HOBBYWING products
but simplifies the operation.
Compact Design & SD/SL Dual Mode Supported
With the compact design, it's applicable to various chassis.
With the Dual (Sensored/Sensorless) Drive Mode,
it's compatible with different motors and brings
racers two different control feel.
High Reliability & Durability
Reliable hardware combined with advanced software technology allows
the QUICRUN 10BL60-SD to not only provide high power output but also
overload protection of the ESC circuit.
Efficient Cooling System
Hobbywing patented heat-conductive copper bar cover on the power board
of the QUICRUN 10BL60-SD, which can efficiently and effectively transfer heat to the
integrated CNC machined billet aluminum heat sink housing, combined with
high-performance cooling fan can keep your ESC as cool as possible.
Single-button Programming & Factory Reset
The SET button on the ESC allows the user to easily program or factory reset the ESC with ease.
Wide Applicability
This ESC is designed for practice and daily training of1/10th, 1/12th scale touring cars, buggies, and F1.

Specifications:
Model:  QR10BL120
Cont. / Peak Current: 120A / 760A
Applicable:  1/10th Touring Car/Buggy/F1/Drift Car, and etc.
Motor Limit 4-6 cells NiMH / 2S LiPo: ≥3.5T (1/10 On-road), ≥4.5T (1/10 Off-road)
8-9 cells NiMH / 3S LiPo: ≥8.5T (1/10 On-road), ≥10.5T (1/10 Off-road) ≥8.5T (1/10 On-road), ≥10.5T (1/10 Off-road)
Battery:  4-9 cells NiMH, 2-3S LiPo
BEC Output:  6V@3A, Linear Mode
Cooling Fan:  Powered by the battery
Dimensions / Weight: 43 x 36 x 33mm (w/ Fan) / 105g (w/ Wires & Fan)
Unfortunately, there are no reviews for this product.
Be the first to add a review!